Exvavation of Land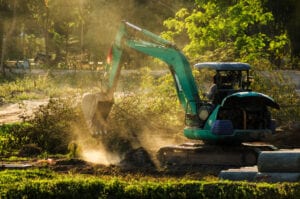 Leveling land doesn't have to be expensive and time consuming. Hire Premier Landscape & Maintenance offers land clearing and excavation. We can give you one of the most sought-after things in the High Country when it comes to land; a much more level property that frees up space for all that you desire.
We are ready and equipped for your excavation Boone NC job. If you are ready to begin transforming your property with hardscapes, water features, or have a need for drainage lines to be dug out, we are the team to contract with. We offer land excavation for typical jobs that involve landscaping and site prepping for various hardscapes, and water features.
Land grading is something that you want a professional excavation team to handle. Moving land is hard work, and we can get the job handled in a short amount of time. We will come out and prep the land, removing trees, shrubs and any other debris from your land. We can properly grade the land so that you are all set for the lawn of your dreams.
Whether you are prepping land for a new home, or updating your property, we'd be happy to be the first step in your process. Give us a call at 336-877-7990 to discuss your needs. We service all areas in the three-county region of the High Country: Ashe, Avery, and Watauga.
Every excavation job brings a different set of challenges that we are ready to meet. We are familiar with the High Country and the types of soil, rock, and geographical features such as rivers, creeks, and mountain brooks that you need to be keenly aware of in order to properly excavate and grade land.
In addition to offer land excavation and grading, we offer a full range of landscaping services including commercial landscaping, hardscaping services in Boone NC, retaining walls, mulch delivery Boone NC, lawn maintenance and grass mowing Boone NC, and much more. We are the experts at creating ponds, waterfalls and other fun water features that you might want to add to your landscape. Call us so that we can discuss the ideas that you have.