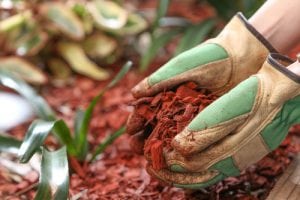 Mulch Boone NC
Believe it or not, the type and color of mulch that is dispersed around your shrubs and various garden beds can transform your yard immediately. Many times, the solutions and custom landscaping shrubs, trees, and plants that we recommend to owners take a bit of time to truly grow. Adding an appropriate type and amount of mulch to your landscapes can really make your yard 'pop' with the type of curbside appeal that you want. Some varieties are preferred more than others. One thing is for sure, you do not want to acquire mulch Boone NC from a landscaper that distributes sour mulch.
There are many different types of mulch, each has its own pros and cons of using. The traditional type of mulch used in the High Country is comprised of shredded hardwoods and bark. Certain colors are popular in various neighborhoods. We would be happy to supply you with mulch Boone NC and ensure that your space is properly mulched with healthy mulch.
There are other types of mulch that are generated from rock, lava rock, shredded rubber (many playgrounds use this, and it's comprised of virgin rubber – not tires as most believe), and even plastic. Some people prefer one type of wood mulch over another due to their color and smell preferences. The smell is by far, the most common complaint that landscapers hear regarding mulch. The truth is, sour, bad mulch smells very bad. Bad mulch can smell like vinegar, ammonia, and sulfur; freshly cut and properly maintained mulch has more of an earthen smell and will resemble the smell of the wood that was shredded to create.
Healthy mulch should be kept in proper piles (certain height/diameter) and turned often to allow oxygen to reach the depths of the pile. Wood that does not receive oxygen begins generating volatile compounds like methanol, acetic acid, ammonia gas, and hydrogen sulfide. Landscapers Boone NC that use 'bad' mulch can damage your young plants and new landscaping, as the organic compounds within the mulch break down and disperse throughout your soil and landscaping. It is important to choose a reputable Boone Landscaper to handle your landscaping jobs.
Plants and shrubs are expensive but using a soured mulch can be even more expensive when you have to replace your damaged plants. Plants can show symptoms from being exposed to bad mulch within a day, especially in times of hot weather. Plants that have been damaged from bad / sour mulch appear to have experienced drought (even though they are regularly watered), foliage burns, wilting, yellowing, browning and defoliation/ death of plants.
If you own or manage property in the High Country and are looking for the best deals on Mulch Boone NC, and other Boone NC landscaping supplies and services, contact Premier Landscaping – Premier Landscape Management & Maintenance. Call us at 336-877-7990.