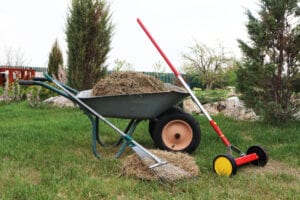 This thatch is too dry, and that thatch is too wet, your thatch can be just right with Premier Landscape Management & Maintenance. Thatch is multiple layers of dead and living root build up between your grass and soil preventing proper nutrients from reaching their premier destination. Some thatch is normal and even preferred to keep your lawn healthy and maintained.  However,  too much and un- maintained thatch can overhaul your Mountainous Boone NC landscape and serve as an eyesore once Spring arrives. Make sure your landscape is dethatched properly to prevent harboring of diseased insects and organisms.
You can tackle thatch and other related lawn sores yourself year round. Regularly maintaining Boone NC landscaping can keep your lawn looking great through every season. For simple dethatching, give your lawn a good mow before raking in an upward motion pulling thatch to the surface. A good thatching rake is similar to your normal rake and can be found at many of your Boone NC landscaping stores. Dethatching your lawn can be followed by a lawn aeration to promote root health and bring back necessary nutrients thatch may have obstructed from seeping in.
If you are unsure how to identify or eject thatch from your lawn, have the best landscaping Boone NC dethatch your lawn now to make it just right before Winter. Here at  Premier Landscape Management & Maintenance we have trained professionals dedicated to providing quality landscaping services across Ashe, Boone, Wilkes and Allegheny counties. Our Boone NC landscaping scope covers everything from general lawn maintenance to Hardscaping services at an affordable cost keeping our mountain communities beautiful and regularly maintained for longevity.
Premier Landscape Management & Maintenance is equipped to handle all of your related landscaping Boone NC needs. If you have questions, or would like to schedule a free estimate or consultation for landscaping Boone NC and surrounding areas, please call us at 336-877-7990, or fill out our quick contact form and we will be in touch.