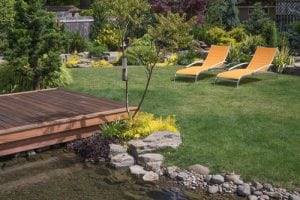 Landscape Designer Boone
Searching for a reputable landscape designer Boone NC? We'd love to speak with you about your ideas and related property needs. We have been designing exclusive gardens, hardscapes, walkways, retaining walls, etc. in Watauga, Avery, Ashe, and Alleghany counties for 18 years. Our company began in 2000, and since that time we have been the go-to landscape designer Boone NC for many clients in the area. We can help you transform your raw land into a yard that requires little upkeep and delivers the ultimate in outdoor settings.
We work with all types of clients, large and small. We handle commercial and residential jobs. All of our clients have different ideas, and most really have no clear picture of what they would like to see in their head, they just have an issue or problem area of their property that they need solutions for.
Whether you need a retaining wall Boone placed on your property to counter erosion difficulties that we encounter in the mountains so often, or you need a landscape architect of sorts to come out and evaluate what type of landscaping would be best suited for your new construction, we'd be happy to work with you. Some clients have visual inspiration that they share with us, and others have problem areas of their property that require effective solutions.
We carry out landscaping Boone NC work across the town of Boone. We are reliable, and knowledgeable on the newest technologies and improvements in landscape design. Our team will not leave your property with debris that you need to clean. We are a full service, landscape designer Boone that you can trust with your business. We can provide references of past clients, as well as before and after photos showing our work. Send us a message via our Contact Form, or give us a call at 336-877-7990.